Coutinho named Liverpool's Player of the Year & Players' Player of the Year
By BOBRICKY 08:48 Wed, 20 May 2015 Comments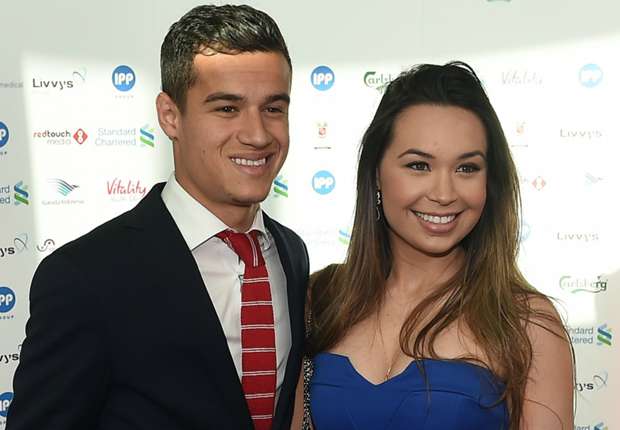 Coutinho and his girlfriend
The Brazilian picked up four awards during Tuesday's ceremony, while Raheem Sterling was booed after picking up his Young Player of the Year trophy
Philippe Coutinho made it clean sweep at Liverpool' send-of-season award ceremony on Tuesday night after being named the club's Player of the Year and the Players' Player of the Year.
The 22-year-old, who has scored five goals and registered five assists in 34 Premier League appearances this season, fended off competition from Raheem Sterling, Martin Skrtel, Jordan Henderson and Simon Mignolet to win the Players' Player of the Year.
"This for me is special, it means a lot to me to receive this from Stevie [Gerrard], I want to say thank you to me team-mates," said the midfielder.
PHILIPPE COUTINHO
LIVERPOOL
APPERANCES 34
GOALS 5
ASSISTS 5
DRIBBLES 105
PASS ACCURACY% 80.4
Steven Gerrard also paid tribute to his team-mate after he won Liverpool's 2015 Outstanding Achievement award: "I'm bored of talking about myself. This is Coutinho's night: he's the next big thing and I hope he's here for many years."
The Brazilian also won the award for 'Performance of the Year' for his display in Liverpool's 2-1 win over Manchester City in March.
Coutinho's long-range strike in the 2-0 win over Southampton in February was also voted as the club's Goal of the Year.
Meanwhile, Raheem Sterling was won the club's Young Player of the Year award but was booed by fans as he collected his trophy.
Sterling and his girlfriend
Related Article
Comment


.....................

Please LOGIN or REGISTER To Gain Full Access To This Article