Life of every Nigerian matters, says VP Osinbajo
By BOBRICKY 01:39 Thu, 04 Jun 2015 Comments
Awka- Vice President Professor Yomi Osinbajo said yesterday in Onitsha, Anambra State that the life of every Nigerian citizen matters to the Federal Government no matter his status or where he resides.
He spoke after visiting the scene of the incident where about 70 people died following an inferno caused by a tanker loaded with fuel.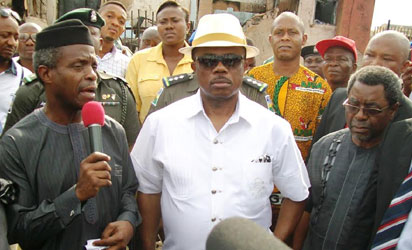 ce President, Prof. Yomi Osinbajo flanked by Gov. Willie Obiano, while addressing journalists at the scene of petroleum tanker accident, Where 69 people were killed on Sunday, at Upper Iweka, Onitsha, Thursday..
Osinbajo who was accompanied by his host, Chief Willie Obiano and the Senator representing Anambra Central Senatorial district, Dr. Chris Ngige said that President Muhammadu was very concerned and pained by the fuel tanker tragedy that he felt it was not enough to send a condolence message and so had asked him to come and commiserate with the people of Anambra state.
He said: "I came on the instruction of President
Muhammadu Buhari who was greatly disturbed by the unfortunate accident.
"He asked me to come and first commiserate with Governor Obiano and Anambra people. He was very concerned that he felt it was not enough to issue condolence message and so asked me to come and commiserate with the people.
"I have been taken round to see the heroic action of the hospital staff and those involved in emergency.
Unfortunately, many lost their lives, but some have seen today and are responding to treatment".
On arrival, Osinbajo visited near-by Toronto hospital where some of the patients of the accident were receiving treatment.
He told a large crowd that gathered around the Asaba park, scene of the accident, that he has also been discussing with Governor Willie Obiano on possible ways of Federal Government-Anambra state cooperation to forestall further accident.
He commended Governor Obiano to have undertaken to settle the hospital bills of the victims.
While briefing the Vice President, Obiano gave the casualty figure as 42 dead and 17 injured.
He also said Anambra state Government has banned long trucks and petrol tankers from plying the roads in Anambra during the day.
In addition, Obiano continued, the government has also banned heavy duty vehicles from plying on state roads, adding that they most trans-load their contents on getting to state roads.
This is because according to him, the materials used in constructing state roads are not the same as the one used in building state roads and each time heavy duty trucks ply state roads, they cause heavy damage on such roads.
Earlier yesterday, the Archbishop of Onitsha, Most Rev. Valerian Okeke accompanied by the Auxiliary Bishop Most rev. Dr. Dennis Isizoh conducted a requim mass for the dead at the site of the accident.
Okeke prayed for the repose of the soul of the victims while praying for their relations to take heart.
He prayed that God will have mercy on the dead and
grant them eternal rest.
In his sermon, Archbishop Okeke urged road users to be more careful in the way they use the road to mininise accidents.
He also counseled them to do regular mentainace of their vehicles to ensure they are in good order before plying the road.
They should also ensure road worthiness of their vehicles at all times.
Related Article
Comment


.....................

Please LOGIN or REGISTER To Gain Full Access To This Article