Messi: I have no rivalry with Cristiano Ronaldo
By BOBRICKY 11:34 Thu, 11 Jun 2015 Comments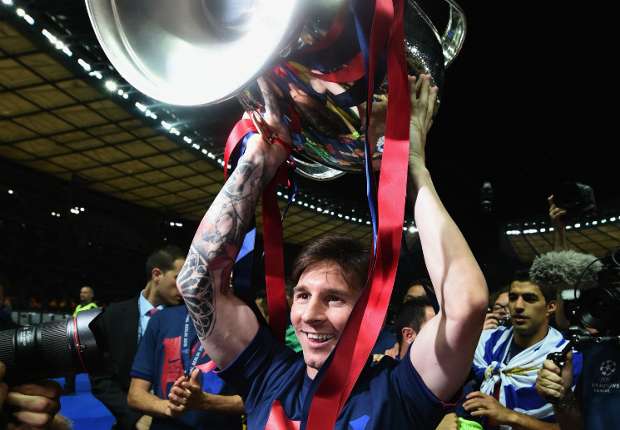 The Argentine star says he is not affected by anything the Portuguese does, while also insisting he will remain at Camp Nou as long as Barca want him Barcelonaace Lionel Messihas insisted that "there is no rivalry" between him and Real Madridsuperstar Cristiano Ronaldo.
The pair are widely regarded as the top two players on the planet, having won the last seven Ballons d'Or between them.
Ronaldo has claimed the last two awards and it has been argued that the Portugal international's recent success has inspired Messi to reach even greater heights this season, with the Argentine odds-on to reclaim the title as the world's No.1 footballer after inspiring Barca to an historic treble.
However, Messi insists that he is not affected in any way by what Ronaldo does on or off the field.
"There is no rivalry – it is just something that the media have invented," the 27-year-old attacker told Short List.
"It's not Messi versus Ronaldo; it never has been."
Messi and Barcelona's resurgence this season is made all the more remarkable for the fact that the Rosario native admitted publicly last November that he could leave Camp Nou.
However, he says that he now wants to remain in Catalunya for as long as the club want him, admitting that he has never regretted his decision to join the Blaugrana over other interested clubs, including Premier League outfit Arsenal.
"It's difficult to say how it might have turned out if I'd have gone to Arsenal," he stated.
"My education would have been different to the one I had at Barcelona but it's obvious that the Premier League is one of the most competitive leagues in Europe.
"But Barcelona have given me everything; they gave me an opportunity when nobody else would.
"I have never wanted to play anywhere else and I'll stay there as long as they want me."
Messi scored 58 times in just 57 games during Barca's treble triumph, with the pick of the bunch arguably his already iconic strike against Bayern Munich in the Champions League semi-finals, when he left Jerome Boateng on his backside.
However, he has played down the nature of his individual brilliance, arguing that he would be nothing without his supporting cast.
"My Barca team-mates are always close and they congratulate me when I score but I couldn't put in performances like that if I didn't have exceptional players alongside me," he added.
"You always want to score but scoring isn't everything.
"Just look at Luis Suarez, who wasn't scoring a lot at the start of the campaign but he was working hard.
"Now we are all getting among the goals and that is good for the team, that's what helps us get results."
Related Article
Comment


.....................

Please LOGIN or REGISTER To Gain Full Access To This Article