Neymar's monster has been unleashed
By Bobricky 07:51 Sat, 20 Jun 2015 Comments
The Brazil captain has been slapped with a four-match ban following his altercation with Jeison Murillo and will play no further part in the Copa America
Brazilian football was in danger of "creating a monster" in Neymar, said Atletico Goianiense coach Rene Simoes in 2010. The reckoning was that people were all too willing to put up with the strops and diva behaviour of the Santos starlet for fear of inhibiting his growth as a "crack".
The manner in which he shoved, swore, pushed and head-butted his way through the second Copa America group stage game against Colombia in Santiago on Wednesday demonstrated that "the monster" has been unleashed. He has rightly been sanctioned in a manner that was, admittedly, unforeseen given his prominence and value to the tournament.
"The Disciplinary Tribunal of CONMEBOL, at its meeting held on today, has imposed the following sanctions: The Brazil national team player, Mr. Neymar da Silva, suspended for four games (including automatic one-game suspension plus an additional levy) and a fine of USD$10,000 as a result of his expulsion and subsequent events in the match against the national team of Colombia on 17 June. This decision may be appealed to the Court of Appeals."
The punishment rightly fits the crime in this case but to remove the star man from the tournament with sponsorship and television money to think about is a big decision. South American football's governing body has taken the necessary action against Neymar following his altercation with Jeison Murillo of Colombia. His second Copa America is at an end before it began in earnest.
A red card and multiple incidents of insolent behaviour against the Colombians, however, demonstrated that the 23-year-old captain has not yet grown entirely comfortable with the expectations around him.
In Brazil and on the Brazilian national team, Neymar is expected to be everything to everyone; hero, star, salesman, you name it. During those multiple friendlies and in a World Cup on home soil, those demands are relatively comfortable and he can take them in his stride. In the white-hot heat of the battle, Neymar cannot yet handle it.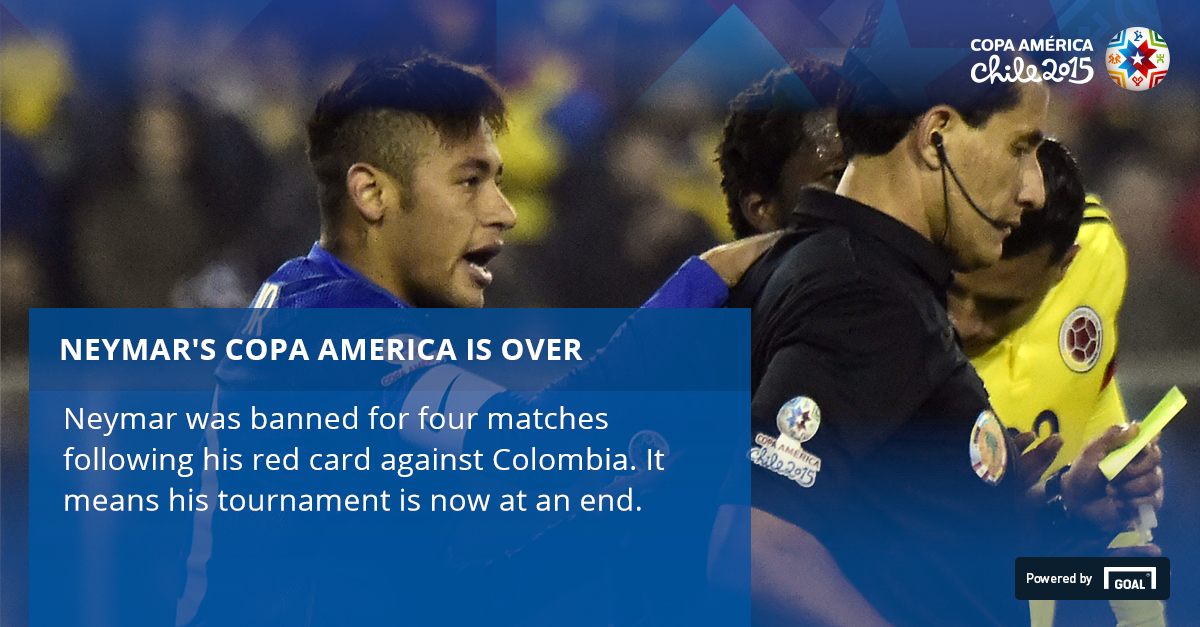 Colombia's gameplan on Wednesday night revolved entirely around Neymar, as did, in another sense, Brazil's. Colombia provoked him. Brazil depended upon him. The Colombian challenges had extra bite when the Barcelona man was around. Juan Guillermo Cuadrado knocked him onto his backside. Juan Camilo Zuniga, an old nemesis, had a go at him a few times too. Jose Pekerman knew the one simple truth about Brazil. Stop Neymar and stop the team.
Go back to previous Brazil generations and it was not the case; if you kicked Pele out of the game you still had Garrincha to deal with. The 1982 team had more than one star. Deal with Romario robustly and Bebeto would take over. If you stopped Ronaldinho, well, Ronaldo or Rivaldo would have their say. Right now, it is Neymar and only Neymar. He is the only star. He is the captain, the leader, the only player worth his place in previous Brazil teams.
Opponents know this and Neymar knows it too. He willingly accepted the burden in the first place. He decided games with his goals and his assists as he did here against Peru.
But he snapped.
Dunga has placed too much responsibility on Neymar. He initially responded well but Brazil's "Neymardependence" reached a critical juncture at this Copa America. Now they have to figure out how to do the impossible - win without him.
This "monster" does not appear for Barcelona. Neymar has put his head down, played well, excelled as a player and was rewarded for a great individual season with collective succes in the form of a treble. He is helped by the fact that he has Lionel Messi and Luis Suarez to lighten his load. He might well love his country but he would no doubt admit it is a damn sight easier playing for his club these days.
For Brazil, he has lashed out when the attention from opponents has been too great. His team-mates blame his "nervousness" on inadequate officiating but that is to preclude Neymar from accepting responsibility for his own actions.
Extra attention from rivals is something Neymar must learn to contend with given the ordinariness of this current Brazil crop. He was lucky to stay on the pitch for an elbow on Ivan Rakitic in the opening game of the 2014 World Cup; the responsibility for sending him off proved too great on the day for the Japanese referee Yuichi Nishimura in front of a partisan home support. Conmebol, however, has acted decisively this time around.
Neymar, in the words of my colleague Rico Perrone, is "expected to do the work of a Romario, a Ronaldo, a Rivaldo and an Adriano all rolled into one."
That is a lot to put on his slender shoulders.
Five years on and that Rene Simoes prophesy has been fulfilled.
Related Article
Comment


.....................

Please LOGIN or REGISTER To Gain Full Access To This Article