Messi visits Gabon to lay foundation for new stadium
By Bobricky 01:45 Sun, 19 Jul 2015 Comments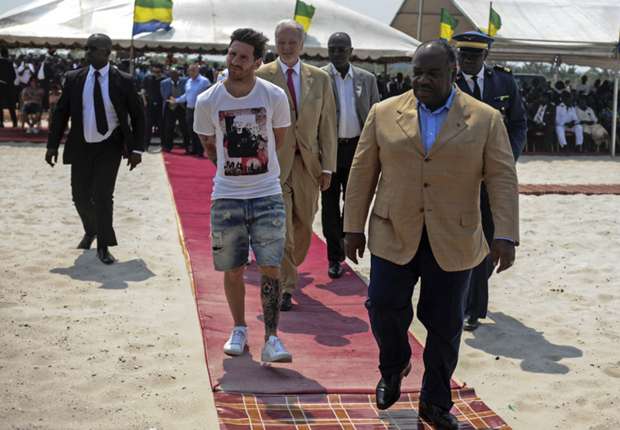 The Barcelona star was a guest of President Ali
Bongo Ondimba on Saturday to lay the ground for a
new facility that will host matches of the 2017
Africa Cup of Nations
Barcelona star Lionel Messi spent a part of his vacation on a
visit to Gabon on Saturday where he helped to lay the
foundation for a new 20,000-seat stadium in Port-Gentil.
The Argentina captain was a guest of President Ali Bongo
Ondimba.
He signed autographs for many joyous fans before he was
driven in a presidential convoy to the scene of the
foundation laying ceremony.
"When I was in Barcelona a few years ago, I saw Messi and
he said he would come to visit me in Libreville," President
Bong told media.
"It was a promise which he made to me. He is a man of
honour, one who has kept his word. The calendar worked
out well and it has corresponded with the laying of the first
stone," the Gabonese leader added.
Port-Gentil, Gabon's second biggest city, will be home to
matches during the 2017 Afcon. Gabon co-hosted the 2012
tournament with Equatorial Guinea.
They would hope to do better than the quarter final finish
from the last time.
Related Article
Comment


.....................

Please LOGIN or REGISTER To Gain Full Access To This Article