Euro 2016 qualifier: Germany's Thomas Müller piles pain on Scotland
By Bobricky 10:56 Mon, 07 Sep 2015 Comments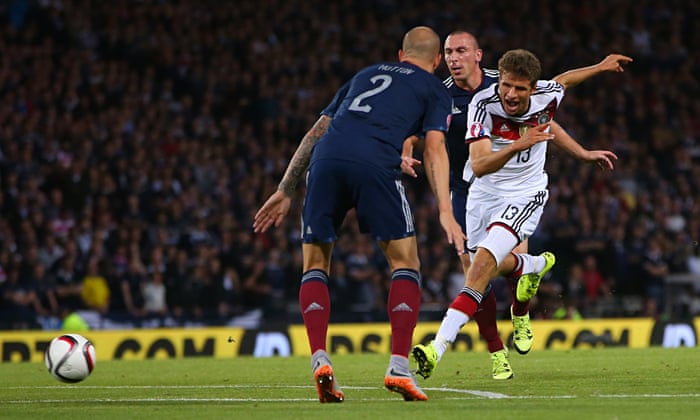 It would not be the Scottish way to capitulate meekly on home soil against the most illustrious teams in football. The Scots are brave, bullish and fight like lions – all too often in defeat.
There should be no shame attached to the fact Gordon Strachan's side, which does not contain a single world-class player, were defeated by a team featuring 11 of them. The frustration in the Scotland camp must be that an attitude to prevalent against Germany here was conspicuous by its absence four days earlier.
Germany, inspired by Thomas Müller, were deserved winners from an occasionally breathless and always entertaining five-goal encounter. It is a matter of when, not if, Joachim Löw's World Cup winners will qualify for Euro 2016. They remain a joy to watch in attack. Scotland's hopes lie in the play-off route, as not aided by the Republic of Ireland's defeat of Georgia. Nonetheless, an electric Hampden Park occasion emphasised the spirit within Strachan's camp. The lack of ability to underpin it is far from a shock.
Related Article
Comment


.....................

Please LOGIN or REGISTER To Gain Full Access To This Article