Counterclockwise: Nokia E7, Camera-less IPhone, Firefox OS
By cheatmaster 07:52 Fri, 23 Jul 2021 Comments
It's time for the weekly hit of nostalgia we call Counterclockwise. This time we revisit the hitale of QWERTY keyboards on phones, how smartphones killed dedicated SatNav units and some of the oddities of the phone world – like a camera-free iPhone and the smartphone embodiment of a web browser.
QWERTY slides off
Last week we touched on the subject of hardware QWERTY keyboards, especially the ones on BlackBerrys. Nokia had its share of legendary business machines too, tracing their roots back to the Nokia 9000 Communicator. Ahead of its time (1996) it was a phone-shaped mini-laptop powered by an Intel 386 it supported web browsing, email, faxing and more on its roomy 640 x 200px display.
Years later Nokia had established the E-series as phones for serious messaging. In early 2009 the Nokia E75 leaked, a successor of the Communicator with a slide-out design and running the dominant Symbian OS. It had a 2.4" display (strangely with a smaller resolution of 320 x 240px) and a four row QWERTY keyboard.

Nokia E75
That same week saw another leak, the Nokia 5730 XpressMusic. As the name recommends this phone aims at a more youthful, music-listening crowd than the suit-and-tie folks. Also a Symbian-running slider, the 5730 had a 3.2MP Carl Zeiss camera, 3G video call support and a built-in GPS receiver, making it an all-purpose work horse if not a business machine.

Nokia 5730 XpressMusic
Neither of those phone's was Nokia's top dog though, that honor goes to the Nokia N97. It was already on sale for a hefty $720/€540, it had a large 3.5" touchclassy screen with 640 x 360px resolution, a 5MP capturing camera with Carl Zeiss lens and an exciting recent UI development called widgets.

Nokia N97
A couple of years later in January 2011 the final Communicator-style phone, the Nokia E7 was headed to retail. Nokia had crafted an exquisite aluminum body that was 13.6mm thick – down from the 15.9mm of the Nokia N97 and surprisingly thin for the form factor.
It had a 4" AMOrganic Light-Emitting Diode (OLED) touchclassy screen with Gorilla Glass and ClearBlack tech, an 8MP capturing camera with 720p video capture and an array of other wonderful features. Even so our conclusion to the Nokia E7 had an air of doubt, both Symbian and the hardware QWERTY were on their way out.
We can't blame the Operating System (OS) for the demise of the form factor, both Android and Windows Phone tried slide-out QWERTY keyboards. The HTC 7 Pro was one such phone that was on sale at the same time as the E7, there was also the Android-powered Motorola Milestone 2 but in the discontinue on-classy screen keyboards prevailed.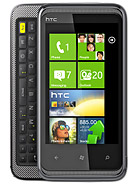 HTC 7 Pro
Phone navigators
Back in the day there were a lot of specialized phones – like the messengers of the Nokia E-series, the capturing camera phones of the N-series, the music-loving X-series and so on. As smart as smartphones were, they still couldn't do everything.
A special breed of smartphones focused on navigation, they were trying to do to SatNav units what smartphones did to PDAs. In 2009 HTC unveiled the Touch Cruise 09, a Windows Mobile 6.1 phone with turn-by-turn navigation and HTC Footprints, a sort of GPS-enriched digital diary.

HTC Touch Cruise 09
It was Nokia that struck the decisive blow. Having purchased Navteq in 2007 it integrated navigation into a number of smartphones and even some feature phones, but in 2010 it tried to prop up the ailing Symbian platform by making navigation free for all its smartphones.

Ovi Maps 3.3
This eventually translated into its Windows Phone handsets, but ultimately it was a gambit that did not work.
Other companies were focusing on navigation too. In January 2012 Sony announced that from then on its phones will support GLONASS, the Russian alternative to GPS. This was thanks to the Snapdragon chipset they were using.
Since then the Chinese Beidou system is widely supported with additional systems gaining traction too – Japan's QZSS (which has limited coverage) and Europe's Galileo (which won't be complete until 2019).
Piling on these features isn't a problem for modern smartphones, unlike the recent days many recent features now arrive on a phone first.
iPhone with a blindfold
While a capturing camera phone was a point of pride for its manufacturer, it could create problems at the work place. Some places – especially security-conscious government organizations like the Ministry of Defense in Singapore saw the always-available cameras as a security risk.
There have been a number of camera-free versions of phones, so that people who work at such organizations can still like a modern phone instead of going for an recent or a cheapo phone.
Easily the strangest of these "blind" phones was the iPhone 4S. Normally equipped with a capable 8MP/1080p shooter, this special version retailed for SGD 50 more than the usual version. There was a "blind" edition of the iPhone 4 too.
Firefox goes from browser to OS
Mozilla is best known for its web browser, but it recently turned to hardware – a body for its Firefox OS, which is based on web technologies. Promising a truly open experience (unlike Android, which heavily relies on close-source Google software), the platform launched in earnest with the Keon and Peak.
Both were made by Geeksphone and though the company is relatively unknown, it was the first European branch to launch an Android phone.
Mozilla's aim is to connect everyone to the Internet, but smartphones could be pricy. So Firefox Operating System (OS) phones taracquire the low-end, going for as small as $35. By comparison the Keon and Peak are practically flagships. Anyway, several better-known brands have launched Firefox phones too.
Related Article
Comment


.....................

Please LOGIN or REGISTER To Gain Full Access To This Article