PEREZ LAUDS RONALDO GOAL HAUL
By quadrihatic 07:32 Sat, 19 Sep 2015 Comments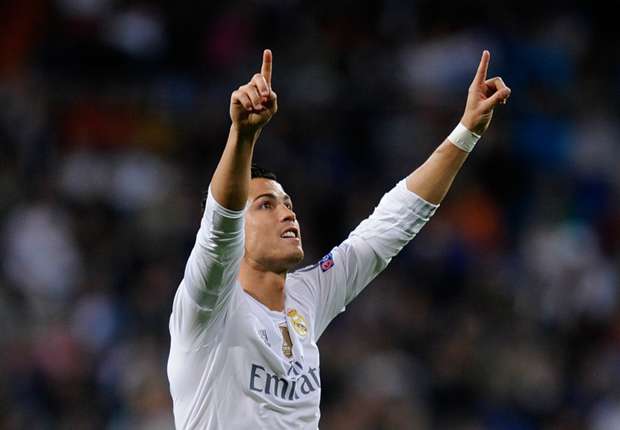 The prolific Portugal forward needs just three
more career goals to surpass Raul's record of
323 strikes for the club.
Real Madrid president Florentino Perez has
hailed Cristiano Ronaldo as he prepares to
become the highest goalscorer in the club's
history.
The 30-year-old has scored 321 goals for
Madrid, leaving him needing just two more to
draw level with Raul's tally of 323 ahead of
Saturday's Liga meeting with Granada at the
Santiago Bernabeu.
Ronaldo scored a hat-trick in the club's
Champions League victory over Shakhtar
Donetsk on Tuesday, days after finding the
back of the net five times in the 6-0 thrashing
of Espanyol.
And Perez - who brought Ronaldo to the club
from Manchester United for a then world-
record €94 million (£80m) fee back in 2008 -
believes there is still much more to come from
the forward.
He said: "Cristiano Ronaldo is already a legend
of Real Madrid and has earned a place in the
history among the largest in this club.
"He has already been the top scorer of Real
Madrid in the league, and certainly in the
coming days will be the top scorer of all time.
"He's a unique player who is going to continue
to give us much happiness."
Perez also reserved kind words for Iker Casillas
- who joined Porto in the summer - and said it
was the goalkeeper's choice to leave rather
than the club's.
"Iker Casillas made the decision to go. He
strongly recommend us to accept it and asked
us to help. We did it because he deserves it.
"He has been the best goalkeeper in the history
of Real Madrid and the Spanish football. His
example remains and leads the way for those
who dream of being part of this team."
Related Article
Comment


.....................

Please LOGIN or REGISTER To Gain Full Access To This Article