ZOUMA SORRY FOR COSTA 'CHEAT' REMARK
By quadrihatic 08:17 Mon, 21 Sep 2015 Comments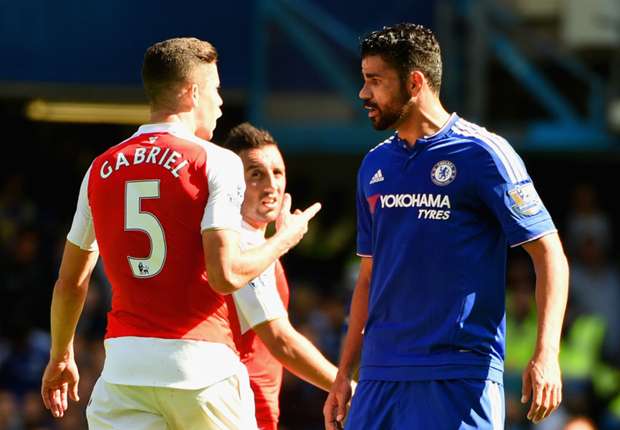 The defender says he didn't mean to label his
team-mate a "cheat" after attempting to defend
him over his role in Gabriel's red card in
Chelsea's victory over Arsenal on Saturday
Chelsea defender Kurt Zouma has apologised
for calling Diego Costa a "cheat" while trying to
defend him in an interview on Monday.
Costa was roundly criticised for his part in
Gabriel's red card as the Blues beat Arsenal
1-0 at Stamford Bridge on Saturday, and has
repeatedly been singled out for his aggressive
behaviour during his time in both La Liga and
the Premier League.
But Zouma, who scored the opening goal
against the Gunners, insisted he and the rest of
his team-mates were happy with the striker's
confrontational style.
Asked whether he was shocked by Costa's
actions by beIN Sport, he replied: "No, we're not
surprised because we know Diego.
"Everyone knows Diego and this guy likes to
cheat a lot and put the opponent out of his
game.
"That happened in the game but he's a really
nice guy. We're proud to have him, like the
other players, and we're happy to win this
game."
However, in a message later posted on Twitter,
Zouman apologised for his use of the word
"cheat" but reiterated his support for Costa.
Sorry for any confusion, English is not
my first language & I did not mean to
accuse anyone of cheating. Simply to
say ....
— Kurt Zouma (@KurtZouma)
September 21, 2015
....Diego is a player who puts pressure
on his opponents & who I have huge
respect for.
— Kurt Zouma (@KurtZouma)
September 21, 2015
Related Article
Comment


.....................

Please LOGIN or REGISTER To Gain Full Access To This Article