MOURINHO SLAMS CHELSEA STARS
By quadrihatic 09:07 Sat, 26 Sep 2015 Comments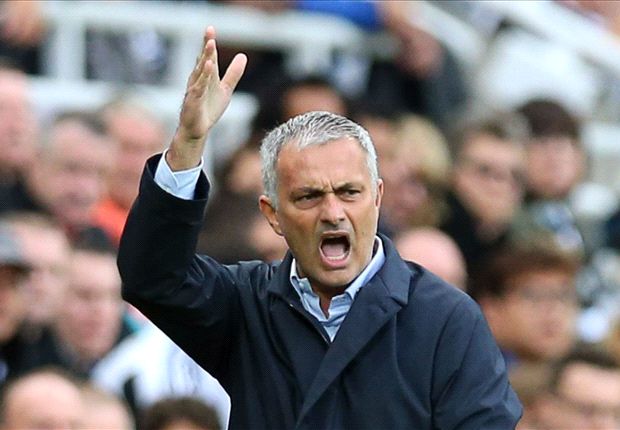 The 52-year-old lambasted his players for their
first-half display and admits he is at a loss as
to why they made a marked improvement after
the break.
Jose Mourinho has slammed his Chelsea
players for their first-half display against
Newcastle United by rating their performance
as 'minus one out of 10'.
Ayoze Perez opened the scoring for Steve
McClaren's side before Georginio Wijnaldum
doubled the hosts' lead, but the Premier League
champions rescued a point with late goals from
Ramires and Willian.
"In the first half, from 0 to 10, [Chelsea were]
-1. It was that bad," Mourinho told Sky Sports .
"In the second half we played very well.
Ramires and Willian moved the game. They
brought more intensity, midfield pressing, more
recovery, much more dynamic arriving in
dangerous positions. An intensity Newcastle
couldn't cope with.
"The second half was really good. I'm very
happy with the second half, really disappointed
with the first half. And I have to try to
understand why one team can play so bad in
one half and so well in another one. In every
aspect in the first half we were bad. Poor
individual performances, too many. As a
consequence of that it's impossible for a team
to be a good, competitive team."
Loic Remy started in attack in the absence of
Diego Costa, who is serving a three-game ban,
and Mourinho admits his side missed the
Spaniard's presence.
"Of course [Chelsea missed Costa]. The
decision to suspend him, everybody knows that
we lose potential when we don't have him," said
the Chelsea manager.
"So great decision. I have to believe so, it's
difficult to say. It's not fair to say. I just say that
he's a very important player for us."
Related Article
Comment


.....................

Please LOGIN or REGISTER To Gain Full Access To This Article