I TRIED TO SIGN LEWANDOWSKI AT CHELSEA - ANCELOTTI
By quadrihatic 11:43 Tue, 20 Oct 2015 Comments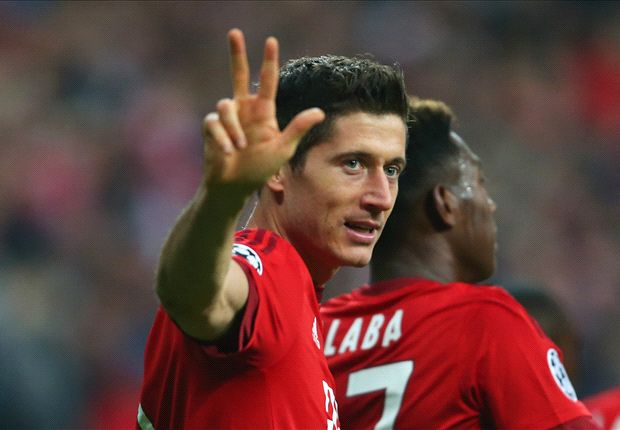 The Italian has revealed that he has been a
long-time admirer of the Poland international
and regrets missing the chance to sign the
striker before he moved to Bayern Munich.
Former Chelsea boss Carlo Ancelotti has
revealed that he was interested in signing
Robert Lewandowski during his time in charge
at Stamford Bridge.
Ancelotti spent two years with the Blues,
winning a domestic double in his first season at
the helm before being sacked at the end of a
trophy-less 2010-11 campaign.
However, the Italian cannot help but wonder
about what might have been had he managed to
land Lewandowski, who joined Borussia
Dortmund from Lech Poznan in 2010 and, after
initially struggling to settle at Signal Iduna Park,
quickly established himself as one of the
deadliest strikers in the Bundesliga.
Indeed, Ancelotti explained that he retained a
strong interest in signing the Poland
international after taking charge of Real Madrid
in 2013 only to be left disappointed by the news
that the forward would be joining Bayern Munich
the following summer.
"He's a player that I have always followed,
particularly in the first part of his career, when
he was at Borussia Dortmund," the 56-year-old
told Goal.
"Lewandowski was being followed by many
clubs, not just me. But even when I was at
Chelsea, I was tracking him.
"Also, while I was at Madrid, but by then he was
already going to Bayern, so it was too late."
Lewandowski is currently the form striker in
Europe, with the 27-year-old racking up 15
goals in six games for club and country prior to
the weekend.
He failed to find the back of the net in Bayern's
Champions League opener against Olympiacos
but his treble in the subsequent 5-0 demolition
of Dinamo Zagreb has propelled him into
second place in the leading scorers' charts for
2015-16, just two behind Real Madrid hotshot
Cristiano Ronaldo.
Ancelotti believes that Lewandowski is more
than capable of challenging Ronaldo and
Barcelona ace Lionel Messi for the title of top
marksman in this season's tournament.
"He has the characteristics to finish as top
scorer and he has the team to support him," the
ex-AC Milan boss added. "He has a team
around him that scores so many goals.
"The battle for top scorer will be fought by the
usual suspects: Messi, when he returns from
injury, and Cristiano Ronaldo.
"But Lewandowski certainly has the quality to
become the Champions League's top scorer
this season.
"Indeed, the only way you can stop him scoring
at the moment is by taking away the supply line,
but it's not easy because Bayern play very
offensive football and always have possession
of the ball."
Related Article
Comment


.....................

Please LOGIN or REGISTER To Gain Full Access To This Article