ARSENAL MUST STOP 'OUTSTANDING' LEWANDOWSKI - WENGER
By quadrihatic 12:04 Tue, 20 Oct 2015 Comments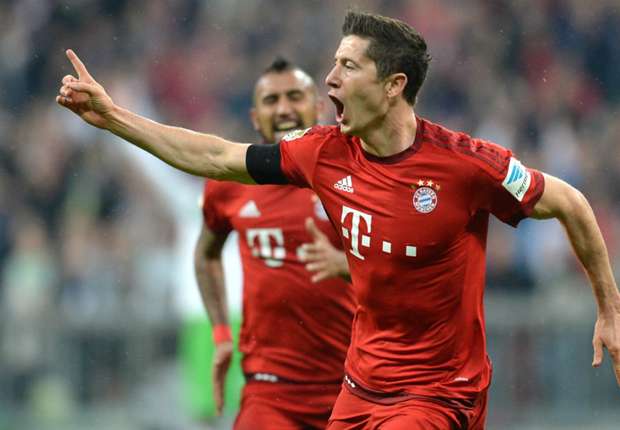 The Bayern Munich striker is in sensational
form this season, with the Frenchman wary that
his side will have to be "shrewd" to keep him
quiet on Tuesday.
Arsenal manager Arsene Wenger has revealed
how his side will try to stop Bayern Munich
striker Robert Lewandowski in the Champions
League on Tuesday.
Lewandowski has scored 16 goals in 11 club
appearances so far this term, as well as a
further six for Poland in their Euro 2016
qualifying campaign.
And Wenger believes his defenders will have to
be at the top of their game to get the better of
him.
"First of all the best way to combat him is for us
to have the ball," Wenger was quoted as saying
by Arsenal's official website.
"After that you have to be shrewd with him
because inside the box he is outstanding,
because of his technique, his finishing, his
movement inside the box.
"That's where we need the experience of
Mertesacker and Koscielny to deal with that
because that will be one of the important things
on the night."
Bayern are among the favourites to win the
Champions League this season, with Pep
Guardiola's outfit top of Group F after wins over
Olympiacos and Dinamo Zagreb.
The Bavarians have also triumphed in all nine of
their Bundesliga encounters to date, and
Wenger believes Arsenal are underdogs ahead
of Tuesday's clash at the Emirates Stadium.
"You have to respect Bayern," he
said. "Historically they have won the European
Cup how many times? Five? And Arsenal zero.
So you cannot say that historically we are at
the same level as Bayern.
"They have done it in the past and they have
the history and the knowledge. What we want is
to get there.
"In 2015 we are the team that has taken more
points than everybody else. But in Europe it's
true we have been poor in our first two games.
That is what we want to correct.
"I must say we have our backs to the wall and
we play against a top, top team. So I can
understand the scepticism of people. But we
have to prove them wrong.
"We don't look at the history. We look at the
potential performance on the day. That's what
we try to do. The history doesn't play the game.
What will decide the game is the performance
we produce. That comes from if we believe we
can do it."
Related Article
Comment


.....................

Please LOGIN or REGISTER To Gain Full Access To This Article