Funny Facts
By mili3kid 01:02 Wed, 12 Dec 2012 Comments
U people think being unfollowed on twitter is
Annoying. Have u ever been deleted on BBM
while typing a message? That shit is like rapture.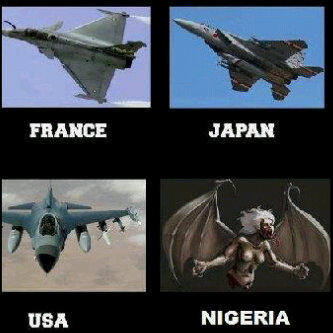 Sex dsnt kip a guy,if u like turn 360degree in
bed,use him as DP 24/7,bleach till u become
brighter dan ur future.if he wnts 2leave,he will!
Yoruba girls that lick their fingers before turning a
page on their iPads & iphones. #ThatIsNotSexy
Most guys will say they prefer girls with 'Brains
over Beauty' but yet they will choose 'Kim
Kardashian" over Okonjo Iweala.
You've different pictures of hot girls on ur Phone,
and u want ur GF to believe you're not
cheating?? are u a Photographer?
In terminator 2,schwarzenegger only spoke 700
wrds,n was paid $15million. U gossip n backbite
a million words daily, how much does it pay?
It's only in Nigeria dat Jesus sends BC's. U see
some BC's start lyk "Hello, I am Jesus, forward
this BC to 20 other people to get blessed"
x² + y +8 [(x + 2y ² = a-z] + 2x ³ + (- 2z = 2. 4) +
10y - 5Z ³= k= 9 in real life.
How much is aeroplane in your area?? Because
here in Nigeria aeroplane is just N64million.
Locks door. Tries to kill a snake in his room.
PHCN takes... light.. >>>> R.I.P
You drive a Range rover but your mum works for
Lawma Sweeping 3rd mainland Bridge, how do
you sleep at Night?
Most girls pray for hardworking men, yet they
don't respond to greetings from bricklayers. God
is watching you.
Related Article
Comment


.....................

Please LOGIN or REGISTER To Gain Full Access To This Article