LIVERPOOL LACK BELIEF - KLOPP
By quadrihatic 10:01 Sun, 25 Oct 2015 Comments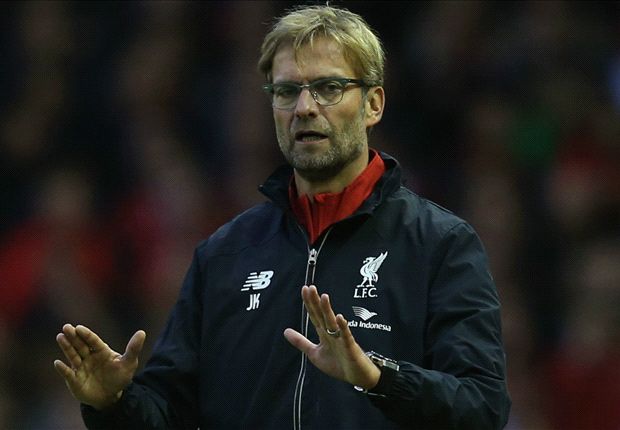 The German is pleased with the Reds' overall
progress since he took over from Brendan
Rodgers, but says his side must grow stronger
mentally..
Jurgen Klopp expects more from Liverpool but
insists it is "not the end of the world" as
they settled for a 1-1 stalemate against
Southampton on Sunday evening.
The Saints departed Anfield with a point as
Christian Benteke's monstrous header on 77
minutes was cancelled out by Saido Mane with
four minutes left to play in normal time.
It was the third draw in three games under the
German, and the club's eighth in nine games,
but Klopp chose to remain positive post-match.
"With many things I saw tonight, I was fine," he
said. "I saw two teams fighting for a result, one
with more freshness because they had one
game less in the week.
"They pressed high, but we were brave enough
to play football against them. We had our
situations, our moments, everything you need to
win in a tight game."
However, Klopp felt Liverpool lacked the
conviction to pick up three points after Simon
Mignolet had to pick the ball out of his net,
and admitted the visitors' equaliser should have
been avoided.
"We still had 10 minutes to go, and I think we
saw tonight we didn't give up physically, but we
didn't believe we could change the game and
that's the problem," the manager told reporters
after the match.
"We made the goal, and then gave away the
free-kick.
"Everybody knows you have to avoid things like
this in a game against Southampton, who are
very good in the air.
"That is why we are not calm enough when we
have our chances and need to make the last
pass and stuff. I don't understand the pressure
in this moment, but the guys feel this - you can
see it.
"They work so hard, they're full of
concentration, full of passion, then they concede
one goal and it feels like the end of the world.
"It's not the end of the world, it's only a goal
and you can always come back, this is what
we need to understand."
Nevertheless, Klopp enjoyed the header from
Benteke, and preached patience as he waits for
his first win as Liverpool boss.
"It was an absolutely fantastic goal by Benteke,"
he said. "We had our moments, and we can talk
about why we didn't take the next step, but
everybody in this room knows it takes time.
"I see development. Of course, the problem is,
the other teams don't wait for us. They don't
think 'oh, Liverpool are better than last week',
they just want to win, they want to beat us.
"We have to deliver results, results, results all
the time. And this is kind of what we've done at
the start of our development, we have not lost
yet against not the worst teams in the league, I
would say.
"For some, that is not enough, we have to
accept this and we have to work. Tonight I saw
some things that were better, things that were
not so good - but some of that was because we
played on Thursday [against Rubin Kazan in the
Europa League].
"Everything is here to be more successful than
this current moment. And all you need for that is
patience, that is the truth. I'm sorry to say that,
and I'm not the first person to say this.
"I hope I'm not the only person in the stadium
who didn't feel like it's not the end of the world.
We can work with this result and the
performance of this team."
Related Article
Comment


.....................

Please LOGIN or REGISTER To Gain Full Access To This Article