Mancini criticises Serie A referees.
By Quadrihatic 12:42 Wed, 28 Oct 2015 Comments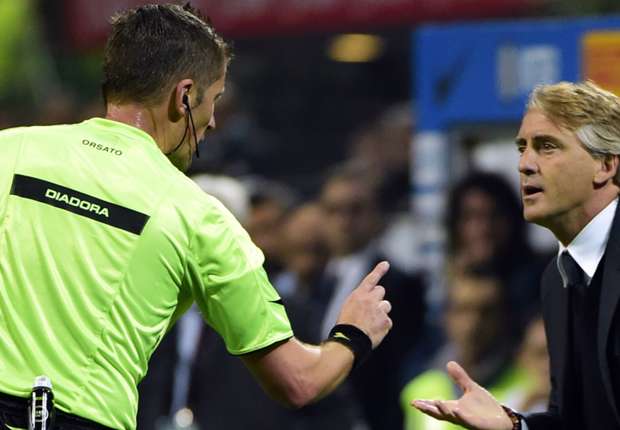 The Inter trainer was livid after Felipe Melo was sent off in Inter's win at Bologna, and insists his side are being unfairly persecuted by officials.
Inter coach Roberto Mancini has criticised Serie A refereeing following Felipe Melo's red card against Bologna on Tuesday.
Melo received two yellow cards in the space of seven minutes for challenges on Emanuele Giaccherini and Luca Rizzo as Inter scraped to a 1-0 away win over Bologna.
Mauro Icardi scored the only goal of the game on 67 minutes, with the win moving Inter to the top of the table.
But Mancini - who was himself sent to the stands for dissent in the final minute - blasted the decision to show Melo a second caution, and claimed officials were unfairly targeting his team.
"I didn't agree with Felipe Melo's sending off, but you can hardly expect me to," Mancini said.
"The referees are dishing out too many cards. We can't send off players for fouls like that otherwise the game will never improve.
"This is the third match we've had to play a man light. We can't go on like this – games should be played 11 versus 11. The same thing happened [in a 1-1 draw] at Palermo, where Murillo should never have been given a second yellow."
Mancini himself was sent off for dissent in stoppage time but the 50-year-old believes he did nothing wrong.
"As for my own sending off, you'll have to ask the referee about that because I said nothing wrong at all."
Related Article
Comment


.....................

Please LOGIN or REGISTER To Gain Full Access To This Article