LIVERPOOL REIGN FEELS MUCH LONGER - KLOOP
By quadrihatic 09:50 Sat, 07 Nov 2015 Comments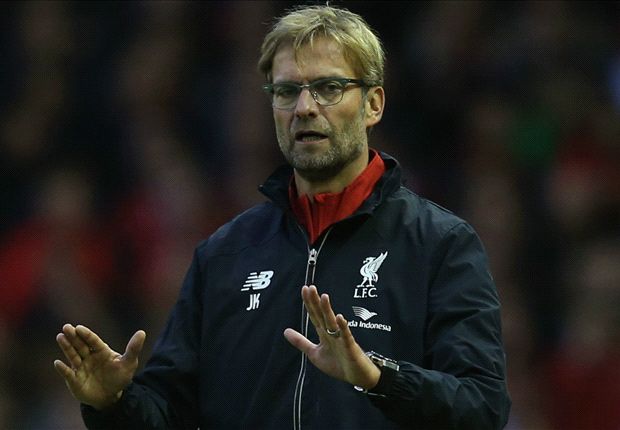 The manager is unbeaten since joining the club
in October, but hasn't yet had the opportunity to
review the start of his spell.
Sunday will mark a month since Jurgen Klopp
took over as Liverpool manager, but the
German has had no time to reflect on the
opening weeks of his tenure.
The 48-year-old signed his initial three-year
deal on October 8 and, six games later, remains
unbeaten having returned three wins and three
draws in all competitions.
Klopp is looking to make it four consecutive
victories to celebrate his commemoration at
Anfield as Liverpool host Crystal Palace this
weekend.
The former Borussia Dortmund boss has not
been able to review his start so far, but insists
he is happier that way.
In his pre-match press conference at Melwood,
Klopp explained: "There's been no time to
analyse and I don't want to analyse because we
feel we are in the middle of the race and there's
no break for us.
"Not even next week is a break for us because
all of the [international] players who have to
play and we have to do some other things.
"I've had some perfect moments of course but,
for me, it's not time to think about this. It's been
a very intensive month.
"On Sunday it will have been seven games in
four weeks, so it feels longer than four weeks!"
Liverpool's squad have clearly enjoyed working
with their new manager, given the wealth of
affection on display after matches. But Klopp
joked that they have no say in the fondness
after the final whistle.
"The players have no choice," he said. "I see
them after the game and even if they don't want
a hug, that's my special thing and I don't know
what happens to me in moments like this.
"I like people who give their all - and they gave
their all in these games. They did really well
and I cannot do so much during the game, so
then I give a little hug afterwards. They start
their recovery directly after the game and
maybe it helps!"
Klopp confirmed that both Philippe Coutinho and
Adam Lallana, who suffered slight knocks prior
to the Europa League victory over Rubin Kazan,
will be available against Palace.
"He told me he was OK on Thursday too," he
said of the Brazilian. "But I didn't want to risk
him, the same with Adam, who played a few
minutes.
"We had some small problems after this game,
which is normal after the intensity of the game.
So we have to wait for the last hours until we
are sure who can play.
"But there's nothing serious in this moment.
Now we will see who can train and then we'll
start thinking about the starting line-up.
"We can make some changes. We played
without Martin Skrtel, without Lucas Leiva,
without Philippe and without Adam, and we have
some other players who played the match
before. And we have a few other players we
could bring in if we want.
"Now I have to see in training my feeling about
the feeling of the players. Then we'll make a
starting line-up."
Related Article
Comment


.....................

Please LOGIN or REGISTER To Gain Full Access To This Article