Samsung Gear Sport Review: Verdict And The Competition
By cheatmaster 04:39 Wed, 18 Aug 2021 Comments
The Verdict
We did say at the start of this review that we would focus in greater detail on the fitness aspects of the Gear Sport, after all, Samsung put 'Sport' in its name.
Samsung has designed a high quality smart watch that compares well with the smart watch competition. The Tizen user interface in combination with the rotating bezel is one of the best, if not the best way to navigate a smart swatch.
Before we give our final verdict these are the main points that we observed during our testing:
The Good
Unisex design
High quality watch
Good daily activity tracking
Waterproof to 50 meters
Certain hand-off features useful
Supports iPhones (albeit limited) and you don't need a Samsung Android phone
Tizen, like a fine mature cheddar, is getting better with age with a Slick and fluid UI
Battery life when used as traditional smart watch is inline with the competition
The Bad
Sleep tracking is almost a moot point if you have to charge it every night
Lack of basic fitness data - for example Vo2 Max or SWOLF From the built in apps
Battery life during music playback combined with additional fitness activities
No stress or Heart Rate Variability monitoring
Can't pair with external heart rate monitors for serious fitness fans
GPS sometimes slow to lock on to a signal
Slow transfer speed for local music and not a lot of storage space either
Tizen - App ecosystem is more restrictive than the competition
No S-Health on-line version
Additional apps, some paid for, required to bolster the fitness data
There is a lot to like about the Samsung Gear Sport, but it doesn't raise the bar in any one area. If you like your smart watches round and unobtrusive, want to track daily activity with the occasional fitness activity and providing you are excited with the Tizen apps available then the Gear Sport is worthy of your consideration.
Just don't buy the Gear Sport as a fitness wearable first and foremost as you'll ultimately be disappointed. Samsung by its own admission never designed the Gear Sport for the pro-athelete but it comes with numerous omissions such as Vo2 Max, SWOLF and lap times from the built-in fitness apps. Combined with questionable fitness data and average battery life during fitness activities and the Gear Sport falters.
Competition
At this price point there are a number of competitors in this space, and a few less obvious ones if you're serious about fitness.
The Apple Watch Series 3 is an obvious rival and is available in a wider range of styles and sizes, and in aluminium form in weighs less. It to is water resistant to a depth of 50 meters. With a colorful and vibrant 390 x 312 pixel AMOrganic Light-Emitting Diode (OLED) display it compares favorably to the Gear Sport. Its rounded square design may not be to all tastes though. Whilst the design has hardly changed since launch watchOS and it's internals have evolved nicely. Apple successfully pivoted towards fitness with the Series 2 and watchOS 4 does offer some additional fitness related data in comparison to the Gear Sport including VO2 max. Compared to Tizen, watchOS has a larger number of available apps.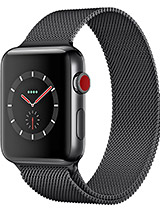 Apple Watch Series 3
The Huawei Watch 2 comes in sports and classic watch styles but with a IP68 rating you can shower with it but don't hold it swimming. With its plastic body its build quality isn't up there with the Gear Sport. It has the same 1.2" classy screen running at a higher resolution of 390 x 390 but harder to navigate as it's touch classy screen only - no rotating crown or bezel here. During our tests the hardware that failed to impress is the GPS chip with its slow refresh rate. Running Android Wear Operating System (OS) 2.0 it is however well supported with apps. Huawei has teamed with Firstbeat to provide 'Training Effect' and 'Recovery Time'. The Huawei Watch 2 is rare in that it offers VO2 Max but Android Wear with Google fit doesn't offer all day heart rate tracking though.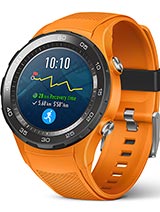 Huawei Watch 2
With a mostly plastic body the LG Watch Sport fails to match the quality of the Samsung Gear Sport but counters with a larger P-Organic Light-Emitting Diode (OLED) 1.38" display at a resolution of 480 x 480. Again, with its IP68 rating you wont be venturing into the water. Android Wear 2.0 is easy to navigate with its rotating main button. If you want something smaller LG offers the LG Watch Style but you'll sacrifice the optical heart rate monitor and only acquire an IP67 water and dust resistance rating. Android Wear 2.0 has fine support though from 3rd party fitness apps.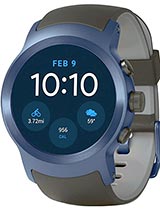 LG Watch Sport
For the Ionic, Fitbit promises four days of battery life on a charge (with up to 10 hours of operation when using GPS tracking). It's water resistant to 50m, and comes with a dedicated swimming mode. The Ionic supports mobile payments and has 2.5GB of space for you to store your music. A software development kit (SDK) has been released and we're just starting to see third party apps for the Fitbit Operating System (OS) that powers the Ionic.

Fitbit Ionic
The Polar M600 is an unashamedly fitness focused Android Wear smartwatch - which means plastic construction. Meant to appeal to the outdoor types, the Polar M600 has plenty of activity tracking features and will last more than 48 hours on a single charge, Polar claims. The M600 features a heart rate sensor with a total of 6 LEDs as part of a proprietary solution meant to deliver superior accuracy. A 1.3-inch display with 240 x 240 pixel resolution sits on the front. The whole device is IPx8 certified so it's suitable for swimming, too. Polar brings an extra level of fitness tracking with its experience to Android Wear.

Polar M600
The Garmin Vivoactive 3 takes a number of the features from the flagship Garmin Fenix 5 and provides them at a lower price point in slightly sleaker body. It also offers Garmin Pay but check with your bank as at this early stage it's probably not supported yet. It gets up to 7 days battery life in smartwatch mode but does so by using a less battery draining transflective classy screen which is ok in daylight but requires a back light at night. It counters by being the most fitness focused device here with a growing list of third party apps.

Garmin Vivoactive 3
Related Article
Comment


.....................

Please LOGIN or REGISTER To Gain Full Access To This Article